ANOTHER CINEMATIC MUSIC EVENING / 18:00 Films for Music installation [RAPHAEL MAZE] - open for improvisation 19:00 Food: please reserve - 3 eur 20:00 Start HUNTER COMPLEX, SEAMUS FOGARTY, LIBEREZ -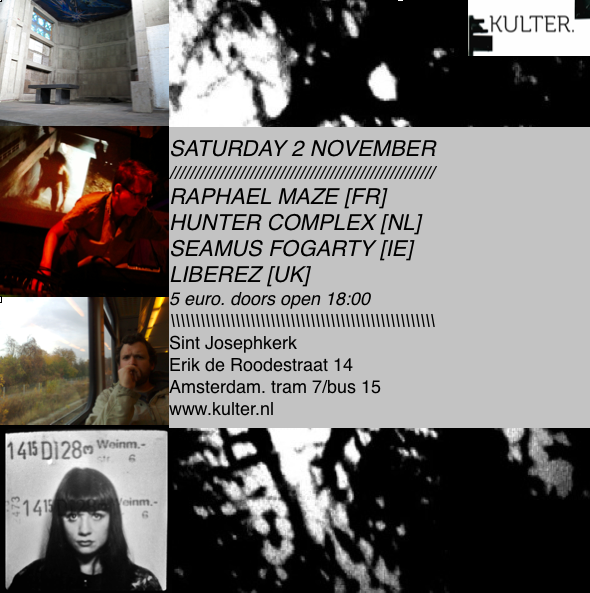 ANOTHER CINEMATIC MUSIC EVENING
18:00 Films for Music installation [RAPHAEL MAZE] - open for improvisation
19:00 Food: please reserve - 3 eur
20:00 Start HUNTER COMPLEX, SEAMUS FOGARTY, LIBEREZ - 5 eur
Sint Joseph Kerk [Vluchtkerk], Erik de Roodestraat 14 - 16 [Tram 7, Bus 15 & 352]
www.facebook.com/events/527732797309756/| www.kulter.nl/events/events.html
RAPHAEL MAZE [FR] makes Films for Music. "His work belongs to a dream-like representation of chaos. The continual alternation between internal organic and urban political is magnified by an edit resembling that of structural film which uses the black and white following a frenetic rhythm" [Joël Pagier]. For the Church, next to multiple loop projections of existing pieces, he presents the result of fresh encounters with local musicians in the days prior to the concert.
SEAMUS FOGARTY [IE] is a London-based musician and artist who released his first album "God Damn You Mountain" [Fence Records] in April 2012. As a songwriter and storyteller, he tells "about mountains that steal t-shirts, women who look like dinosaurs and various other unfortunate incidents". He also makes audio-visual installation. He's currently on solo tour with a mainly acoustic show with some live electronics/visuals. Amsterdam is the first stop on his tour.
LIBEREZ [UK] is an instrumental filmic improvisation quartet consisting of former Woe members John Hannon & Pete Wilkins, together with Nina Bosnic & Tom James Scott. Even better than good words, a sample of atmospheres: A Warning | A.C.A.B. | Nema Te. Though we can expect again something different in the Church anyway - their unique date in The Netherlands on this tour.
HUNTER COMPLEX [NL] is the name of the solo project by Lars Meijers, co-funder of the Narrominded label, who just brought out the album Heat in September 2013 [beautiful limited lp edition available for sale], after the cinematic single Space in June.